How bauma 2019 revealed the way forward for the European construction industry
The construction industry is going through radical changes. Digitisation will enable the sector to realise much needed productivity gains and increase transparency. The introduction of digital technology will also create better and safer jobsites, and turn construction companies into employers once again attractive to young people.
A record-breaking edition
With more than 620,000 visitors from over 200 countries, bauma 2019 was a record-breaking edition for the world's leading trade fair for construction machinery, building material machines, mining machines and construction vehicles. Almost half of the visitors came from outside Germany, with a strong increase from overseas visitors from China, Australia and Japan. The number of exhibitors totalled about 3,700 from 63 countries, another record.
Digital is everywhere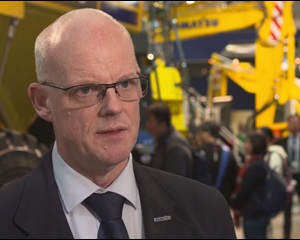 Apart from these record-breaking numbers, another remarkable fact emerged at bauma 2019: digital technology was everywhere. "The construction industry is quite a conservative business. Studies show that the adoption of technology in this sector has been very low in comparison with others. But bauma made it clear that this is about to change," says Richard Clement, Deputy General Manager, Solutions Business at Komatsu Europe.
At bauma, Komatsu introduced its Smart Construction concept to the European market. Already successful in Japan on over 7,000 jobsites, Smart Construction is designed to guide construction companies in digitising their processes. "When we visit our customers' jobsites, we see a huge potential to transform the earthmoving process," says Richard Clement. "By using Internet of Things (IoT) technology we can capture raw data from the jobsite, and turn these data into useful information to help our customers create better jobsites and become more efficient at what they're doing."
The pressure is on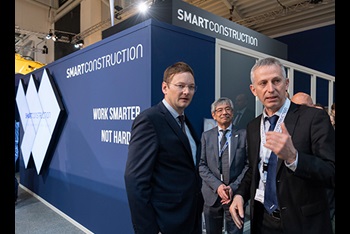 Komatsu's Smart Construction concept was well received at bauma 2019. Dirk Jank, management of machine department at HOCHTIEF Infrastructure GmbH, branch Austria/Germany South East, was one of the many visitors at the Komatsu Smart Construction Pavilion. "There is a clear need in our business to gain more insight into what exactly is happening at our jobsites. The collection of reliable data on the progress of construction works, the number of people and machines they require, and the actual consumption of materials and fuel, will enable us to better calculate and plan our activities."
And it's not simply about efficiency. "The pressure is on from clients – especially in the public sector – for higher transparency in all things related to quality control. Increasingly tough legislation and environmental demands also add to this. Having the right data available at all times helps us to fulfil these demands for our customers."
Better and safer workplaces
The introduction of digital technology will bring more efficiency, higher productivity and better cost control to a sector that has not experienced the same productivity gains as many others. Richard Clement thinks it will also have a positive societal impact. "All over the world, millions of people are working in the construction industry. As we all know, it can be a messy, disagreeable and sometimes dangerous environment to work in. Technology will help us turn construction sites into better, safer and more up-to-date workplaces. This is especially important for the future of our industry, with many companies struggling to attract both young and skilled people."
A different kind of business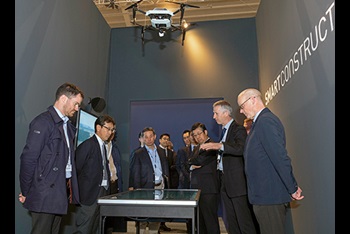 Digital transformation will not just change the way construction sites are managed, but will also have a profound influence on all the companies active in the industry. And that may even apply to Komatsu as well.
"Today, we are well-known around the world for our high-quality, technologically advanced machines. With Smart Construction that might actually change in the years to come. In the future we will not just sell you a yellow metal digger. We will sell you a hole in the ground." Richard Clement, Deputy General Manager, Solutions Business at Komatsu Europe.
References
What's Smart Construction? Interview bauma 2019
BBC News – The Diggers Guided by Satellites and Drones.
Related blogposts
The history of Smart Construction - How Japan transformed its construction industry through smart use of technology
"There must be a better way" - How digital technology is transforming the construction industry
Contact
Richard Clement
t: +44 1914925444
m: +44 7734684671
e: richard.clement@komatsu.eu